It's a perfect Sunday to wash my hair. I'm officially one week post. Here's how my wash day is going..
Today's workout bun...my hair and itchy scalp is ready to be washed
Process:
1) Cleansed with Hair One
2) Protein treatment: Aphogee 2 Minute Reconstructor for 10-15 minutes
3) Final rinse: Porosity Control Corrector and Conditioner, and detangle with a wide tooth comb
4) Spray on leave-in conditioner: Aphogee Green Tea and Keratin Restructurizer
Now I'm air drying with a scarf. Will moisturize and seal when my hair is almost finished air drying.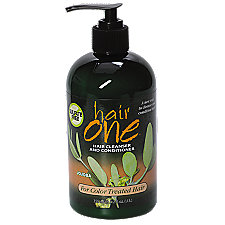 Thoughts:
All of the products I used today (so far) contain some type of protein. Most people's regimen is based on moisture with a shot of protein as needed. My reggie is quite the opposite -- mostly protein products with a shot of moisture as needed.
I decided to skip the shampoo (sulfate-free or otherwise) for this wash. I really like the Hair One cleanser, this is my second bottle. It makes my hair really soft and I like the tingling effect it gives my scalp.
Next time:
The Aphogee 2 Minute Reconstructor always makes my hair feel soft after just 2 mins. So leaving it in for 15 would make it work better right? wrong. It made my hair a tiny bit hard after 15 minutes. So next time I'll stick to leaving it on for the 2-5 minutes as directed on the bottle.
Unless my scalp gets really itchy or my hair gets lots of buildup, I'll be using Hair One consistently as a cleanser until my next clarify which is Aug 17th.